CRE has had a great bull run that's about to become a rodeo.  It's been about a month since my Top 3 Predictions for Interest Rates blog on Dec 14, 2016 where I made these three BOLD predictions:
#1– The FOMC will only increase the Fed Funds rate by 25 bps in their DEC 2016 meeting
#2– There will be a 5-20 bps TEMPORARY dip in rates
#3– Rates will continue to climb in 2017
So far, two out of three of my predictions have come true as "Nana" Yellen and her FED posse have, predictably and politically, decided to increase the Fed Funds Rate 25 bps to 0.50%-0.75%; AND as the below table from thefinancials.com shows pre-market rates have the 10 year swap rate down 22 bps since the FOMC meeting roughly 1 month ago.  Meanwhile, the 10 yr TSY bill yield dropped from 2.5916 on DEC 16th to 2.4352, or about 15 or 16 bps.  In short, I was spot on.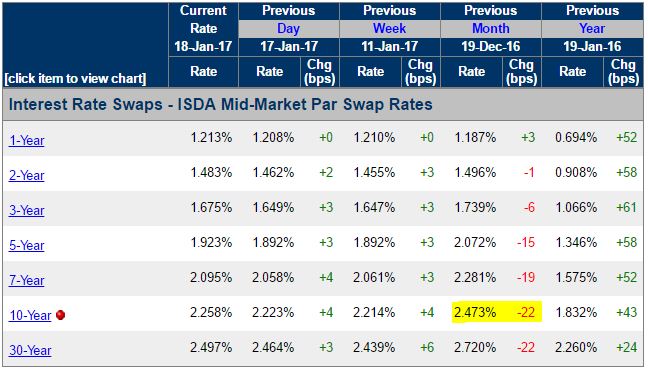 Rates will be bucking like a rodeo bull in 2017 with an upward trajectory overall.  There is a slim chance yields decrease, but not immediately and not this year without some SERIOUS geopolitical events or hands on intervention- like the dissolution of NATO or the EU, trade wars, debt and currency crises in places like the EU, Venezuela and India, massive US regulatory overhaul… basically everything that may soon occur during a Trump presidency.  Exciting times!
We had a few clients who heeded our prediction on rates and boldly went into closing over the holidays.  One client closed their SFR portfolio loan 20bps tighter than the rate quoted upon application! Fortune DOES favor the bold.
Another client WOULD HAVE closed 25 bps tighter on their rate between application and close, but had an issue with some not so great appraisals.  We advised said client to simply order new appraisals for a cost of about $3k-$4k in order to increase their cash-out an additional $50k to $100k, a pretty good ROI.  They decided to walk from loan closing instead, which is BAD because they would've been 25 bps tighter for the next 10 yrs- timing doesn't get much better- the full deposit will NOT be refunded, new appraisals will still have to be paid for and they will like chase the dragon as they search for a deal similar to what they walked away from.  This was all explained in detail.
Commercial real estate can be a complicated business folks!  Let's face it, if it were easy everyone would be doing it, the market would always go up, and unicorns would endlessly prance on rainbows.
So here is some FREE ADVICE for 2017 as this long running bull market becomes more of a rodeo show:
Rates are going to be bucking wild this year STARTING TOMORROW after Trump's inauguration
CRE has had a great bull run since 08' and 09' KNOW WHEN TO HANG ON AND WHEN TO GET OFF THE BULL
Values are at or near their peak for most properties in this cycle with some markets already experiencing pricing drops, increased DOMs (Days On Market) and surging inventories so PAY ATTENTION TO RELEVANT TRENDS
APPRAISERS AND LENDER ARE PUMPING THE BREAKS a bit on certain product types, deals, markets and leverage and it's absolutely the right move to make in right now.  Hotels- I'm looking at you.
Some lenders offer FORWARD COMMITMENTS for which pricing can be tricky, but they will be the best tool for certain deals in 2017; DO NOT ATTEMPT to lock a forward without professional help.
LISTEN TO YOUR BROKER!!!  Which will hopefully be us at Rhenium Capital 🙂 This isn't our first…. RODEO???
In all seriousness, the only thing we love more than helping our clients avoid getting gored by the bull's horns is helping them make and save money.  That's why we're running a special promo for multifamily housing properties in Florida, Georgia and Alabama where our clients can SAVE UP TO $50K on their next closing… and that's no BULL.